The Jolly Washer: Margate's Premier Pressure Washing Services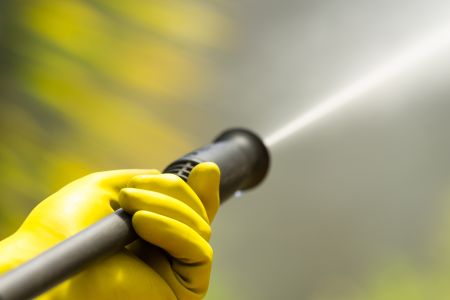 If you own a home, business, or commercial property in the greater Margate region, and you need a reliable pressure washing company, then we highly advise you to check out The Jolly Washer.
We've been servicing the greater Margate region for the past several years, delivering unparalleled pressure washing results to all our clientele. People love turning to us because they know that we're committed to ensuring customer satisfaction, we use the finest commercial-grade pressure washing equipment, and we have years of experience and knowledge in the field.
Below are our most popular services for our Margate clientele.
Deck cleaning: Your deck is the central hub for outdoor gatherings. Therefore, you'll want it to look its best before your next big get-together. If you have cobwebs, footprints, and other grime littering your deck, you'll want a high-quality pressure washing company to come in and scrub it clean. The Jolly Washer is here to help!

Fence cleaning: Your fence can accumulate all kinds of dirt and grime, such as fungus, mud, moss, mold, and much more. You'll want to keep it nice and clean if you want to prevent it from deteriorating. Whether your fencing is made of wood, vinyl, or metal, we've got the right equipment and methods to get your fence looking as clean as the day it was installed!
To find out more about our pressure washing service offerings in the Margate region, please give us a call today at 609-757-8847.
Margate's Premier Roof Cleaning Services
Does the roof of your Margate home or commercial property need a good cleaning? It can be dangerous and difficult trying to do it on your own, which is why you need professional assistance. Hire The Jolly Washer to give you a hand so that you don't need to put yourself into any dangerous situations. We'll get on top of your roof and blast away all the mold, mildew, moss, algae, and other unwanted substances.
Best House Washing Services in the Greater Margate Region
If you want to truly boost your curb appeal by transforming the look and feel of your home, we advise you to check out our house washing package. As the name implies, we'll clean your entire home's exterior from top to bottom, getting inside every corner and removing all traces of gunk and grime. After we've finished, you'll be impressed at the new look of your Margate residence. We're confident that your neighbors will be begging you to tell them who did your pressure washing. Just remember the name: The Jolly Washer.
Want to find out what we can do for your Margate home? Call us sooner rather than later to learn about The Jolly Washer's pressure washing service offerings. We're ready to answer any questions or concerns you may have.


What Our Clients Are Saying


About The Jolly Washer

These guys talk the talk and walk the walk! They said the house would look like new and it does! They were very responsive and called me to be sure everything was done to my satisfaction. Excellent service! I highly recommend them if you want your house to look like new!

We had a great experience. These two conscientious young men did a thorough, careful and professional job. I would highly recommend them. Pricing was reasonable also!

The Jolly Washers were extremely professional and hard working. I would recommend to friends and clients in the future for sure!