Experienced Concrete Cleaning In South Jersey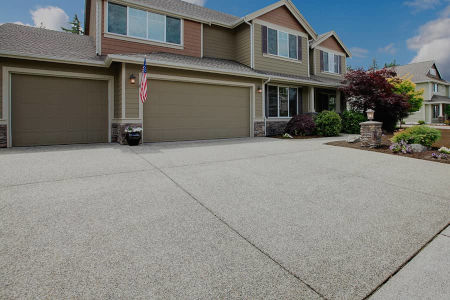 Northfield homeowners, business owners, and commercial property owners in search of a reliable concrete cleaning company: your prayers have been answered! The Jolly Washer is here to help.
For the past several years, we've been recognized as the top pressure washing company servicing the greater Northfield region. With our commitment to customer satisfaction, our arsenal of commercial-grade equipment, and our variety of services, it's no wonder people love coming to us for all their pressure washing needs. On this page, we're going to review our concrete cleaning services.
Concrete is difficult to clean. You can't just blast it with a garden hose and expect it to look as good as new. You need to employ more aggressive tactics that will penetrate the surface and remove all the accumulated grime and gunk. That's why you need a solid pressure washing company by your side.
At The Jolly Washer, we use high-powered pressure washing equipment that can get deep into the concrete, drawing out all the impurities and dirt that has made its way to the core. For more stubborn stains, we'll add special eco-friendly soap and detergents to help get the job done more quickly and efficiently. After we're finished, you'll notice a significant difference in the appearance of the freshly cleaned concrete compared to how it was before.
You shouldn't neglect the concrete surfaces around your property. Left unattended and uncleaned, they can start to break down and deteriorate. You don't want to go through the hassle of repairing and replacing concrete, so it's wise for you to invest in a proper concrete cleaning service sooner rather than later.
Want to find out more about our concrete cleaning packages? Please don't hesitate to call The Jolly Washer today! We look forward to hearing from you.
Check Out Our Deck and Fence Cleaning Services
In addition to concrete cleaning, we also offer a variety of other popular services, such as deck and fence cleaning.
Once the warmer weather rolls around, your yard will be the hotspot for activity, and you'll want to ensure that it looks its best before you have guests over. The best way to do that is by investing in a solid deck and fence cleaning service that will wipe away all the gunk and grime that's been accumulating all year.
If you're interested in finding out more about concrete cleaning, deck and fence cleaning, or any other pressure washing in Northfield, we highly encourage you to reach out to us today. When you give us a call, you'll be put in touch with a knowledgeable and friendly representative who will answer all of your questions or concerns. Together, we can transform the look and feel of your Northfield home.


What Our Clients Are Saying


About The Jolly Washer

These guys talk the talk and walk the walk! They said the house would look like new and it does! They were very responsive and called me to be sure everything was done to my satisfaction. Excellent service! I highly recommend them if you want your house to look like new!

We had a great experience. These two conscientious young men did a thorough, careful and professional job. I would highly recommend them. Pricing was reasonable also!

The Jolly Washers were extremely professional and hard working. I would recommend to friends and clients in the future for sure!