Window Cleaning In South Jersey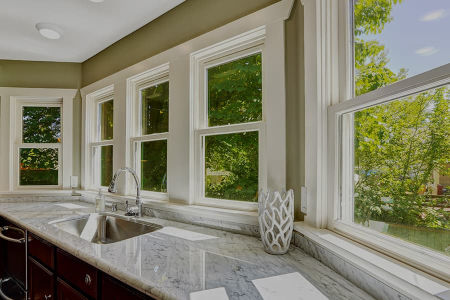 Are you a Linwood resident in need of a high-quality window cleaning service? Then look no further, because The Jolly Washer is here to give you a hand.
For the past several years, The Jolly Washer has been the go-to pressure washing company in the greater Linwood region. People love us because of our dedication to our craft, our commitment to customer satisfaction, and our variety of pressure washing services, including window cleaning.
Your windows need to be cleaned regularly, not just on the inside, but the outside as well. However, it can be difficult and dangerous trying to clean your windows if you don't have the right equipment, especially if you have a tall home. Left uncleaned, your windows will eventually become so caked in dirt and grime that it'll decrease the overall curb appeal of your home.
In addition to this, unclean windows can increase your electric bills due to the lower efficiency. You will find a noticeable difference in your energy usage when you compare your freshly-cleaned windows to your dirty ones.
That's why you need our help with your window cleaning needs.
With our window cleaning service, we'll get up there and vigorously clean all the windows of your home. To help us achieve such outstanding results, we use a method called soft washing, which involves lower water pressure and special eco-friendly soaps and detergents. This potent combination allows us to remove even the most stubborn grime from delicate surfaces, such as glass and screens, without causing damage or harm.
Ready to take advantage of our window cleaning services? Please call us today. We look forward to hearing from you.
Check Out Our House Washing Services in Linwood
If you want a pressure washing service that's a little more extensive than just window cleaning, we advise you to check out our house washing package.
As part of this offer, we'll clean your entire Linwood home's exterior from top to bottom. This includes us cleaning inside every corner, nook, and cranny, getting rid of all traces of grime and gunk from even the hardest-to-reach spots. After we're finished, your Linwood home will look as good as new, and we think even your neighbors will be begging to know who did your house washing. Just remember the name: The Jolly Washer.
Are you interested in finding out more about our window cleaning, house washing, or any of our other services pertaining to pressure washing in Linwood? Then don't hesitate to call us today. When you contact us, you'll be put in touch with a knowledgeable representative who will address all of your questions, comments, or concerns. We're looking forward to working with you and transforming your Linwood residence for the better.


What Our Clients Are Saying


About The Jolly Washer

These guys talk the talk and walk the walk! They said the house would look like new and it does! They were very responsive and called me to be sure everything was done to my satisfaction. Excellent service! I highly recommend them if you want your house to look like new!

We had a great experience. These two conscientious young men did a thorough, careful and professional job. I would highly recommend them. Pricing was reasonable also!

The Jolly Washers were extremely professional and hard working. I would recommend to friends and clients in the future for sure!