Brigantine's Leader in Pressure Washing Services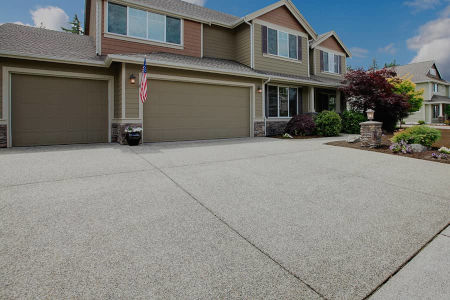 If you own a home, business, or commercial property in the Brigantine region and you're looking for a dedicated pressure washing company, we advise you to check out The Jolly Washer.
For years, we've been Brigantine's top pressure washing service provider. From concrete cleaning to full house washing, we handle it all, but our variety of services isn't the only thing people love about us. We're also dedicated to customer satisfaction, and we have years of knowledge and experience in our craft, allowing us to truly excel in our services.
Below are just a few of our service offerings:
Soft washing: Soft washing involves using lower water pressure combined with special soaps and detergents to remove grime and dirt from the more delicate surfaces around your home. The soaps we use are eco-friendly and completely safe for you, the environment, and your home.

Concrete cleaning: Concrete is exceptionally difficult to clean due to the tough exterior surface. Luckily, we have the right equipment that can penetrate the concrete and draw out the impurities from within.

Graffiti removal: Graffiti removal is another difficult task that requires expertise. If you're too gentle, you won't remove all the color from the surface. If you're too aggressive, you can damage the surface. Fortunately, we know the right techniques that will remove all the graffiti and leave behind a polished and clean-looking surface.
To find out more about our various pressure washing services in Brigantine, please call us at 609-757-8847.
Check Out Brigantine's Finest Roof Cleaning Service
We all know how tedious and difficult it can be trying to clean our own roofs. If you're a homeowner in Brigantine who needs their roof cleaning properly, we advise you to reach out to The Jolly Washer, the region's finest pressure washing company. We have the methods, experience, and equipment needed to properly clean your roof of all mildew, mold, and grime for good. That way, you don't need to worry about having to do it on your own.
Brigantine's Premier House Washing Service
If you want to truly enhance the look and feel of your Brigantine home, we advise you to check out our premier house washing package. This service involves us washing your entire home's exterior, starting from the top and then working our way to the foundation. We'll thoroughly clean every surface, including the siding, the roof, the windows, the doors, and more. Once we're finished, you'll have a chance to stand back and marvel at what we've accomplished.
Ready to transform your Brigantine home? Reach out to us today! When you call The Jolly Washer, a friendly and knowledgeable associate will be there to take your call and to answer any of your questions.


What Our Clients Are Saying


About The Jolly Washer

These guys talk the talk and walk the walk! They said the house would look like new and it does! They were very responsive and called me to be sure everything was done to my satisfaction. Excellent service! I highly recommend them if you want your house to look like new!

We had a great experience. These two conscientious young men did a thorough, careful and professional job. I would highly recommend them. Pricing was reasonable also!

The Jolly Washers were extremely professional and hard working. I would recommend to friends and clients in the future for sure!