We Offer Gutter Cleaning For Your South Jersey Home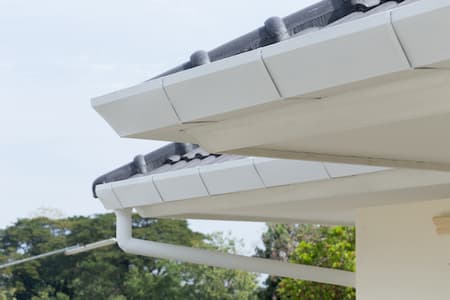 If you're a Linwood homeowner searching for a reliable gutter cleaning service, we recommend that you reach out to The Jolly Washer today.
For years, we've been the go-to Linwood pressure washing company for residents all across the region. People love us for our commitment to customer satisfaction, our arsenal of commercial-grade pressure washing equipment, and our variety of services, from house washing to rust removal. One of these services we want to highlight is our gutter cleaning package.
Have you ever taken a good look at the inside of your gutters? You can only imagine what kind of stuff is hanging out in there: debris, leaves, twigs, bugs, droppings, and much more. The longer you let this stuff accumulate in your gutters, the less your gutters can function properly. Eventually, water won't be able to get through, which can lead to the gutters buckling and falling off your home. Gutter repair and replacement is extremely expensive, so it's wise to nip the problem in the bud sooner rather than later. That's why we offer our gutter cleaning package to help you out.
With our gutter cleaning service, we don't just handle the insides either. We also look at the outside of the gutters, which can become dirty and worn-out over time. We'll clean your gutters' exteriors, leaving behind a polished surface that makes for a beautiful accent to your home. Now, you can take pride in the fact that your gutters are cleaned inside and out! Don't hesitate to reach out to us to find out what we can do for you.
Soft Washing Helps Make Your Gutters Shine
You might be wary about having your gutters pressure washed, thinking that it might be too vigorous. Luckily, with The Jolly Washer, you don't need to worry. We utilize a method known as soft washing, also called no pressure or low-pressure washing.
For this strategy, we lower the pressure on our equipment, and we introduce special soaps and detergents to the mix. This solution allows us to clean more delicate areas around your home, such as your roof, vinyl siding, glass, screens, and more. The mixture is potent enough to wipe away all the grime and dirt, but it won't harm the surface underneath. The best part? The soap we use in our mixture is completely safe and eco-friendly. That means it won't hurt your home, the environment, or your property.
Want to find out more about our gutter cleaning services in Linwood? We highly recommend that you reach out to us today. A helpful representative is ready to take your call and to answer all of your questions, comments, or concerns.
We're ready to help you make your gutters look as good as new.


What Our Clients Are Saying


About The Jolly Washer

These guys talk the talk and walk the walk! They said the house would look like new and it does! They were very responsive and called me to be sure everything was done to my satisfaction. Excellent service! I highly recommend them if you want your house to look like new!

We had a great experience. These two conscientious young men did a thorough, careful and professional job. I would highly recommend them. Pricing was reasonable also!

The Jolly Washers were extremely professional and hard working. I would recommend to friends and clients in the future for sure!