Building Washing Professionals Serving The Greater South Jersey Area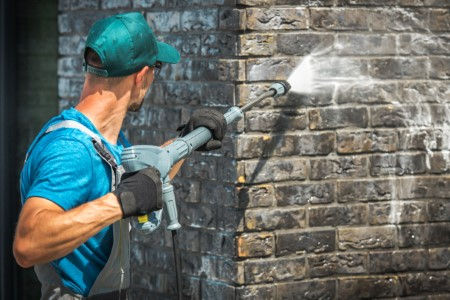 The Jolly Washer offers a wide variety of commercial pressure washing services in Linwood, but one service we want to highlight here is our building washing package.
As a commercial property owner, you're under a lot of stress trying to manage a large area. One of the things you have to worry about is keeping it looking clean and well-kept. That's why you need to hire someone who specializes in pressure washing in Linwood. You need someone who can handle all your pressure washing needs, from concrete cleaning, to roof cleaning, and everything in between. But one of the top packages that we believe could be of use to our commercial clientele is our building washing service.
As the name suggests, our building washing service involves us cleaning your building's exterior from top to bottom, making sure we get into every nook and cranny. We'll eradicate all the accumulated gunk, grime, and dirt from every single corner around your commercial property's buildings. We make sure we get your roof, your siding, your doors, your windows, and much more as part of this package.
After we're finished, we'll let you get a good look at your newly transformed building, and we're sure you'll be in awe at what we've accomplished. If for any reason you're unhappy with our results (which we doubt will happen), we want you to let us know as soon as possible. We'll work hard to make sure we provide a quick and effective solution, and we won't consider our job done until we know you're satisfied.
Reach out to us to learn more about our building washing offering.
Find Out How Soft Washing Helps Our Clients
Certain parts of your building can't be cleaned by traditional pressure washing because it might be too aggressive. For areas like your roof, windows, screens, or siding, we may use a method called soft washing, also known as no pressure or low-pressure washing.
Soft washing is the practice of lowering the water pressure on our machines and introducing a special collection of soaps and detergents to the mix. This resulting solution is then used for the more sensitive areas around a property. It does a great job of removing even the most stubborn stains and grime without causing damage to the surface underneath. The best part? The soaps we use are completely safe and eco-friendly, meaning they won't cause harm or damage to you, your property, or the environment.
Are you interested in finding out more about our building washing or any other commercial pressure washing services? We highly encourage you to reach out to The Jolly Washer today. We want to work with you to make your commercial property look its absolute best. We look forward to hearing from you.


What Our Clients Are Saying


About The Jolly Washer

These guys talk the talk and walk the walk! They said the house would look like new and it does! They were very responsive and called me to be sure everything was done to my satisfaction. Excellent service! I highly recommend them if you want your house to look like new!

We had a great experience. These two conscientious young men did a thorough, careful and professional job. I would highly recommend them. Pricing was reasonable also!

The Jolly Washers were extremely professional and hard working. I would recommend to friends and clients in the future for sure!