We Are The Professional South Jersey Pressure Washing Service You Can Trust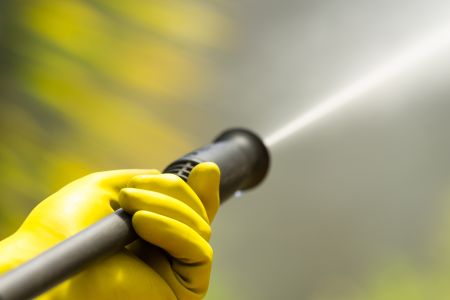 If you're a Linwood resident, business owner, or commercial property owner in search of a reliable and dedicated pressure washing service, then look no further, because The Jolly Washer is here to help!
Ever since we opened our doors several years ago, we've been committed to delivering unparalleled pressure washing service to our clientele across the Linwood region. To this day, numerous residents across the region associate our name with "quality Linwood pressure washing."
But why do people come to us for their pressure washing needs?
Over time, as our property is exposed to the elements, it begins to change. You'll notice things like paint chipping away, strange vegetative growths, and accumulation of dirt and grime. The longer it sits unattended, the more and more it develops. Eventually, you'll have a layer of gunk and grime plaguing most of your property. You can't just wash it away with a garden hose either. You need heavy-duty help. That's where we come in.
Our pressure washing service involves us coming to your property and using our commercial-grade equipment to blast away the accumulated grime for good. No matter where it is, we're sure we can eradicate it. Whether you need us to clean your windows, siding, fencing, decks, roof, or gutters, The Jolly Washer knows how to get it done.
One of the ways we're able to achieve such amazing results with our work is by using a method known as soft washing, also called no pressure or low-pressure washing. For this strategy, we lower the water pressure on our machinery and introduce special soaps and detergents to the mix. This solution allows us to remove the grime from more delicate areas of your property, such as vinyl siding or shingles, without causing damage to the surfaces underneath.
Check Out Our Rust Removal Package in Linwood
Have you had a chance to look around your property and properly inspect all the metal surfaces? You may notice that there are signs of rust appearing in these areas. Left unattended, rust can go out of control, eventually spreading and causing entire sections of the property to look unkempt and unclean. Rust can deteriorate the overall sturdiness of these areas and lead to extensive damage that is costly to repair. That's why you should take advantage of our rust removal services.
We'll help restore the metal surfaces around your property and eradicate all traces of rust for good. After we're finished, these metal surfaces will look as good as new!
Ready to find out more about our rust removal or other pressure washing service offerings? Give us a call today. When you reach out to The Jolly Washer, you'll be put in touch with a helpful representative who will listen to your questions, comments, and concerns.


What Our Clients Are Saying


About The Jolly Washer

These guys talk the talk and walk the walk! They said the house would look like new and it does! They were very responsive and called me to be sure everything was done to my satisfaction. Excellent service! I highly recommend them if you want your house to look like new!

We had a great experience. These two conscientious young men did a thorough, careful and professional job. I would highly recommend them. Pricing was reasonable also!

The Jolly Washers were extremely professional and hard working. I would recommend to friends and clients in the future for sure!