Atlantic City's Leader in Pressure Washing Services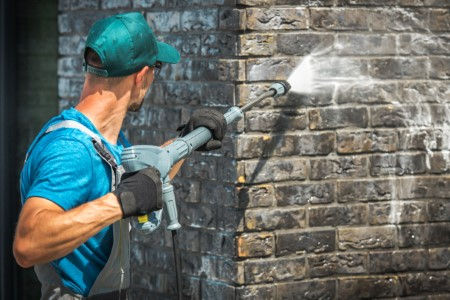 If you're in the greater Atlantic City region and you need a reliable pressure washing company, we advise you to check out The Jolly Washer today.
For years, we've been the premier pressure washing company servicing homeowners, business owners, and commercial property owners in the greater Atlantic City region. People love coming to us not just because of our commitment to quality and dedication to customer satisfaction, but also because of our variety of pressure washing services, some of which you can find below.
Soft washing: For more delicate areas around your property, we utilize a method known as soft washing. This involves turning down the power on our pressure washing equipment, allowing us to remove grime and dirt without harming the surface underneath. We also use special eco-friendly soaps to keep your surfaces clean for a long time.

Concrete cleaning: Concrete can be extremely tough to clean, and you can't do it with just your average garden hose. You need high-powered equipment to get deep into the surface so that you can eliminate all the impurities for good.

Fence cleaning: Your fence can become home to all kinds of grime and other unwanted substances. No matter if your fence is made of wood, vinyl, or metal, we know the right methods and equipment to use to get the surfaces clean.
Want to find out more? Call us at 609-757-8847 to learn about our pressure washing packages in Atlantic City.
The Finest Roof Cleaning Service in the Atlantic City Region
Cleaning a roof is no easy task for Atlantic City homeowners. Without the right knowledge, experience, or equipment, you can end up not cleaning it properly, and you might even get hurt! Instead of jeopardizing your health, we advise you to reach out to us to get the job done instead. We'll get on your roof and blast away all the mold, mildew, moss, grime, and other accumulations that are plaguing your home.
Hire Us For Your House Washing Needs in Atlantic City
Your house deserves to look its best, and one way we can help you do that is with our house washing services. We'll scrub your entire home's exterior, making sure we clean every surface, from the siding to the windows, to the doors, and everything else. We'll remove all traces of unwanted grime and dirt, leaving behind a polished and well-maintained looking home that will make your neighbors jealous.
Are you ready to take the next step in cleaning your Atlantic City home, business, or commercial property? We advise you to reach out to The Jolly Washer today. When you call us, a helpful and friendly associate will be there to answer all of your questions, comments, or concerns. We can't wait to help you refine your home.


What Our Clients Are Saying


About The Jolly Washer

These guys talk the talk and walk the walk! They said the house would look like new and it does! They were very responsive and called me to be sure everything was done to my satisfaction. Excellent service! I highly recommend them if you want your house to look like new!

We had a great experience. These two conscientious young men did a thorough, careful and professional job. I would highly recommend them. Pricing was reasonable also!

The Jolly Washers were extremely professional and hard working. I would recommend to friends and clients in the future for sure!