Parking Garage Cleaning For Your South Jersey Business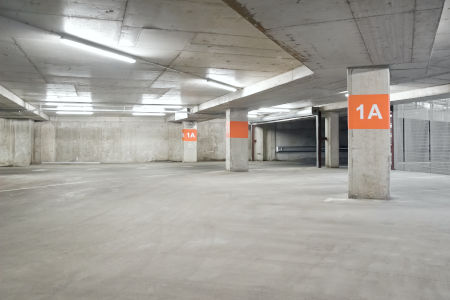 The Jolly Washer is one of Northfield's top parking garage cleaning services, and if you're a commercial property owner in the area, we highly recommend you reach out to us sooner rather than later.
For years, commercial property owners have been turning to us because they know we provide some of the best pressure washing in Northfield. One particular service that is quite popular with our commercial clientele is our parking garage cleaning package.
When people come to your place of business, they want to have peace of mind knowing that they're leaving their cars in a safe, well-maintained place. If your parking garage is dirty, grimy, and unkempt, then you aren't giving them that assurance. People are less likely to visit your place of business, and that means much less traffic coming in, resulting in less revenue overall.
You can avoid this all by investing in our parking garage cleaning service. No matter how big or how small your parking garage is, we'll clean it from top to bottom, making sure we remove all the accumulated grime and trash that's been building up on the surfaces. After we're finished, your parking garage will look as good as new, and people will be flocking to park their cars inside!
One of the ways we're able to achieve such great results with our parking garage cleaning service is because we use a special type of pressure washing known as soft washing. This involves us adding special soaps and detergents to the pressure washing mix and turning down the overall water pressure. The resulting solution lets us clean off most surfaces and properly wash them of all the bacteria that cause unsightly growths and accumulations. The best part is that the soaps we use are eco-friendly, meaning they won't harm the environment.
Learn more about our parking garage cleaning services by reaching out to us today!
Hire Us For Your Graffiti Removal Needs in Northfield
One of our other commercial pressure washing packages that you might be interested in besides our parking garage cleaning service is our graffiti removal offering.
If you have graffiti plaguing the walls of the buildings around your commercial property, then you know it'll be a hassle to get off. If you're too aggressive, you can risk harming the surface underneath the graffiti. If you're not forceful enough, you won't get all of it off the surface. The Jolly Washer knows just the right way to attack this problem to get the best results possible.
Want to find out more about our graffiti removal or parking garage cleaning services? Please reach out to The Jolly Washer. We will work with you to deliver the results you deserve for your commercial property.


What Our Clients Are Saying


About The Jolly Washer

These guys talk the talk and walk the walk! They said the house would look like new and it does! They were very responsive and called me to be sure everything was done to my satisfaction. Excellent service! I highly recommend them if you want your house to look like new!

We had a great experience. These two conscientious young men did a thorough, careful and professional job. I would highly recommend them. Pricing was reasonable also!

The Jolly Washers were extremely professional and hard working. I would recommend to friends and clients in the future for sure!