Your Local Pressure Washing Company in Ocean City, NJ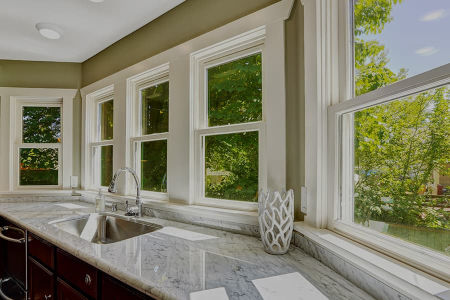 Are you an Ocean City resident, business owner, or commercial property owner in need of a reliable pressure washing service to help you out? Look no further than The Jolly Washer!
For the past couple of years, we've been Ocean City's go-to pressure washing service, and we've had countless residential and commercial clients coming back to us again and again because they love us so much.
Below are just a couple of the unique pressure washing services we provide for our Ocean City clientele.
Gutter cleaning: Your gutters can be filled with all kinds of gunk and debris such as twigs, leaves, bug nests, and much more. The longer you let them go uncleaned, the harder it is for your gutters to function properly. Eventually, your gutters can break apart due to the excess weight gathering. Let us flush your gutters out so you don't need to worry. We also offer exterior gutter washing so that they'll be nice and clean inside and out.

Rust removal: Over time, metal around your home will begin to rust and deteriorate. Nobody wants this for their home. Luckily, The Jolly Washer has got you covered. We offer extensive rust removal services for around your property, no matter how far it's progressed. Let us restore the look and feel of your home today with our rust removal methods.
These are only a couple of the services we offer. If you want to find out more about our pressure washing packages in Ocean City, please call us at 609-757-8847.
Supreme Roof Cleaning Services in Ocean City, NJ
Cleaning the roof of your home or business can be exceptionally difficult, not to mention dangerous. That is why it's a good idea for you to hire a professional service, such as The Jolly Washer, to handle it for you. We'll get up on your roof and blast away all traces of gunk, grime, and mildew so that you never have to worry about it again.
Hire Our House Washing Services For Your Ocean City Home
If you want the full pressure washing package for your Ocean City home, then we advise you to check out our house washing offering. As the name implies, we'll clean your entire home's exterior from top to bottom, making sure we clean inside every corner. After we're done, even your neighbors will be impressed at just how nice your house will look! They'll be begging you to tell them who did your pressure washing.
Ready to transform your Ocean City home or commercial property? Contact The Jolly Washer today to learn about what we can do to help you out. A knowledgeable and friendly associate is ready to answer any of your questions.


What Our Clients Are Saying


About The Jolly Washer

These guys talk the talk and walk the walk! They said the house would look like new and it does! They were very responsive and called me to be sure everything was done to my satisfaction. Excellent service! I highly recommend them if you want your house to look like new!

We had a great experience. These two conscientious young men did a thorough, careful and professional job. I would highly recommend them. Pricing was reasonable also!

The Jolly Washers were extremely professional and hard working. I would recommend to friends and clients in the future for sure!