Your South Jersey Soft Washing Specialists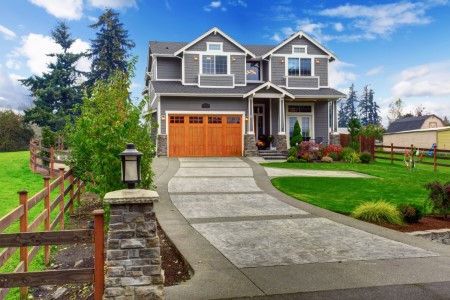 Aside from being one of the top pressure washing companies in Northfield, The Jolly Washer also specializes in soft washing, which could be exactly what your home or business needs!
You may be asking yourself, "What is soft washing, and why is it so important for my property?" To answer that, we need to look into the concept of pressure washing as a whole and how it relates to soft washing.
With pressure washing, you use a high level of water pressure to blast away stubborn dirt, grime, gunk, and stains from surfaces. This is primarily used on surfaces such as stone, concrete, brick, etc. The high level of water pressure is what allows us to get deep into the surface and draw out all the impurities. However, regular pressure washing doesn't work for all kinds of areas because it may be too rough. If you're not careful, pressure washing can cause damage to particular areas, which is one of the main reasons you'll want to hire a pressure washing company such as The Jolly Washer.
One of our cleaning methods is called soft washing, but we also may refer to it as low pressure or no pressure washing. For this strategy, we turn down the amount of water pressure we use so that we can be gentler on surfaces. We also add special soaps, solvents, and detergents into the mix. The result is a potent combination that will wash away grime and dirt from more delicate areas around your property. We typically use soft washing for areas like glass, screens, vinyl, and some wood. With soft washing, you can rest assured knowing we're cleaning off all the dirt without damaging the surface underneath.
If you're concerned about the soaps we use in our soft washing, you'll be happy to know that we only use eco-friendly and safe mixtures. That means you don't need to worry about any damage or harm to you, your home, or your property.
Learn All About Our House Washing Services in Northfield
If you want the complete pressure washing package from The Jolly Washer, we highly recommend you check out our house washing service.
As the name suggests, our house washing package involves us cleaning your entire home's exterior from top to bottom. We'll make sure we reach every single corner, getting into every nook and cranny, ensuring that we remove even the most stubborn grime and gunk from your residence. After we've finished, you'll be impressed at how we've managed to make your entire home look as good as new.
Interested in finding out more about our house washing, soft washing, or any of our other Northfield pressure washing services? Reach out to The Jolly Washer today! When you give us a call, a helpful representative will be ready to address any questions or concerns you may have.


What Our Clients Are Saying


About The Jolly Washer

These guys talk the talk and walk the walk! They said the house would look like new and it does! They were very responsive and called me to be sure everything was done to my satisfaction. Excellent service! I highly recommend them if you want your house to look like new!

We had a great experience. These two conscientious young men did a thorough, careful and professional job. I would highly recommend them. Pricing was reasonable also!

The Jolly Washers were extremely professional and hard working. I would recommend to friends and clients in the future for sure!